Signature Custom Cabinetry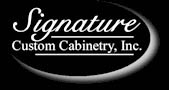 Signature Custom Cabinetry builds investment grade furniture providing a lifetime of service and a value enhancement for your home. They are engineered and built to stand the test of time and for the enjoyment of many future generations. Glen Alspaugh is proud to bring Signature Custom Cabinetry to the St. Louis, MO area and incorporate their cabinets in a number of custom kitchen designs.
Recently, increased attention has been given to the issue of formaldehyde and its use in wood products. Signature Custom Cabinetry works diligently to ensure that all their plywood, Veneer and MDF core sheet goods meet both phase 1 and 2 (93120.2) requirements as stipulated by the California Air Resource Board.